Top Gun House Washing Services in Harford County. House SoftWashing with Top Gun is one of the best and easiest investments you can make in your property. Our goal with every property we clean is to develop outstanding customer service, lasting results, and industry know how so the job is done right the first time. In Maryland, you have many options for house washing but you should be able to trust any company with more than that! Our SoftWash uses chemicals to clean the surface instead of pressure which can harm siding and roofs.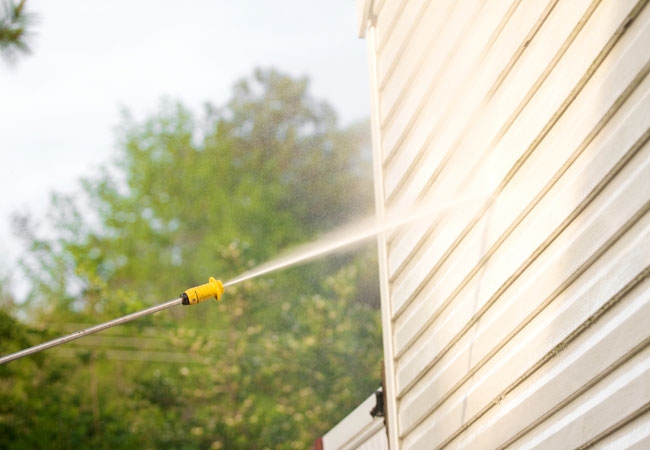 Roof cleaning can help maintain the health of your roof and identify if there are any compromises in the structural integrity of the roof. Moss, Dirt and Weather can deteriorate the glue that holds shingles together so continued cleanings are a must! We only use SoftWash Chemicals on roofs without damaging the integity of the shingles. We never use metal scrapers to remove the heavy stuff. So sit back, relax, and trust the professionals while protecting one of your most valuable assets you have ... your home.
Now that the house and roof are clean, we offer great driveway cleaning and sidewalk cleaning services. Gum, oil and rust can be unsightly stains that you might feel like they are impossible to remove. We offer great oil stain removal, rust removal, and high-pressure driveway and sidewalk cleaning that will practically erase any sign of those pesky blemishes.
Another area we focus on is the deck. Deck cleaning can revive your back or front yard! Moss, mold, and other substances can permeate the wood of your deck. This can breakdown the wood and soften it which makes it need repairs sooner and more often. We will tackle all porch cleanings and deck cleanings efficiently and effectively. Window cleaning in Maryland is necessary with our weather. No matter if there are hard water stains, or if they are too high, we will clean your windows. Clean windows give you a clear view from the inside and a sparkle on the outside. Treat your house and yourself to our wonderful window cleaning service!
Lastly, we can't leave out your fence! Fence cleaning in Maryland is one of the finishing touches you can do to give your property that extra care and attention it deserves. When you combine a fence cleaning and deck cleaning, it will produce a pristine property that will get your neighbors talking!
With Top Gun, our goal is to provide a top to bottom service that will maintain the outside of your house and keep your home clean. From our house washing, roof cleaning to surface oil stain removal and rust removal, no job is too big or small for us to excel at!